Where to Stay in Gran Canaria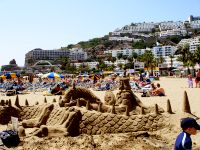 We are constantly being asked about options for travel to and accommodation in Gran Canaria, with many people looking for hotels, flats, apartments, studios, or houses and villas for rent. This page is a summary of our experience and knowledge.
Gran Canaria has over 100,000 holiday beds available, almost entirely located in the resorts of Maspalomas, Playa del Ingles, San Agustin, Bahia Feliz, Sonnenland, Meloneras, Puerto Rico and Mogan. They range from simple apartments up to the five star luxury of the Gran Residencia. With strong competition between tour operators to fill these beds our first recommendation is therefore to get a package deal from a principle tour operator, such as Thomas Cook or Sunset Holidays, which combines a flight, airport transfer and accommodation. Divers should select a package in Bahia Feliz, San Agustin, Playa del Ingles, Maspalomas, Meloneras, or Sonnenland, as this will give a relatively short transfer of 15-25 minutes to our dive centre.
Independent Travel to Gran Canaria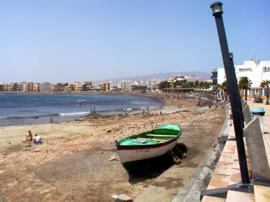 If you want to stay out of the bustle of the tourist resorts, then it can be relatively simple to put together your own tailored package. You can now book both return and single flights on the web with low-cost airlines such as Ryanair, Jet2 and Easyjet; and tour operators including Thomas Cook, Airtours and Thomson.
When you arrive you will need to organise your own transfer, with car hire and taxi being favorite options. All taxis are metered and it costs about €25 to get a taxi from the airport to Arinaga.
Arinaga is a strange town on a holiday island .. it has no hotels! It is principally a dormitory town with a typical relaxed Canarian atmosphere. At present the only short-term accommodation we are aware of are all self-catering:
These are all ideal for divers looking for somewhere completely different to stay, in a town that is truly Spanish in character.
For those wanting more of a hotel than an apartment, in nearby Vecindario the
Hotel Avenida de Canarias
is very reasonably priced, but not in a tourist area, while for more refinement the nearest 4* hotel is the
Gran Hotel Aeropuerto de Vecindario.
This is a four star business hotel, and in some places describes itself as being in 'Las Palmas'.
If you want a different character again, in the old town of Aguimes the Rural Hotel
"Villa de Agüimes"
is full of charm and authentic Canarian character, and is set in the beautifully restored heart of the town. The
Aguimes Tourist office
also has some holiday apartments to let in the town, but divers need to be cautious .. Aguimes is 300m above sea level so an extended surface interval of at least one hour is required after the last dive of the day before ascending to your hotel. Look at
TURISMO RURAL DE AGüIMES
for more details.
The lowest cost option is of course to camp, and in 2011 the council inaugurated a
fully provisioned camping site
just up the coast at Vargas, with protected pitches, showers and barbecues. This is very popular with the surfing community, and they also offer a package which includes tent and bedding for just €12.50 per night. We also collect divers from the campsite.
If you are looking for something a little more luxurious, then we recommend this
apartment for rent in San Agustin.
Because there is such a wide range of different accommodation available, there are two ways we recommend for finding somewhere to stay in Gran Canaria. If you book a package with a major Tour Operator, such as Thomas Cook or Airtours, then you can be assured that the property has been tested, inspected, and that the price includes airport transfers. While if you want to be more independent, and put together a more personal package, then we recommend Viajes Islas Canarias Tours who are one of the local specialists and can recommend a wide range of different options. You can e-mail then your enquiry or call them on (00 34) 928 76 03 86
Finally, if you want a self catering option back in the popular tourist areas (and remember that we offer a free collection service from the resorts of the South) then there are several other pages and websites which may help you:
Some other relevant pages in our site